Perth summers can be torturous with very minimal rainfall and temperatures ranging from 17.5 to 30 degrees Celsius. The Fremantle Doctor or the afternoon sea breeze can bring some relief, but you can feel more comfortable with a suitable air conditioner for your home. One of the choices you may already know about is a ceiling cassette air conditioner. But before getting this type of aircon, it is smart to learn more about it first.
What is a Ceiling Cassette Air Conditioner?
Ceiling cassettes are a type of split aircon system, which means they consist of two units. It's easy to recognise a ceiling cassette aircon because its indoor unit is installed on the ceiling. The conduit that connects the indoor and outdoor units are hidden within the ceiling (hence the name). Other types of split systems have the indoor unit installed on the exterior wall.
Because it is a split-type air conditioning system, a ceiling cassette is easy to install and does not require ductwork. This is its main advantage over a ducted system, which includes an internal fan coil that has to be installed into the house's roof space. A series of ducts should be created in different locations throughout your home if you will install a ducted system. As you can see, it is not efficient to use a ducted system if you have a smaller home. It's also not a good option if you only require air conditioning for a single room.
If you have any experience with wall-mounted split systems, you can quickly discern their difference with a cassette air conditioner. As mentioned, the cassette system is mounted on the ceiling and not on the wall. The unit installed inside the home on the ceiling is responsible for distributing cool air through the device's sides. Meanwhile, the external unit is placed outside just like you would with a conventional wall-mounted system.
Is a Ceiling Cassette Aircon Good for Your Home?
There are several benefits of installing a ceiling cassette air conditioner. It's virtually intrusive and comes with a variety of capacities and sizes. You have the freedom to select the model that fits your requirements, finances, and preferences. Cassette air conditioners, however, are more suitable for larger areas. That's because you have to provide a good amount of ceiling space to accommodate the unit.
Unlike other split systems, it is not advisable to install a cassette aircon on your own. Ceilings typically have beams, so you should first consult with an expert to determine where you should install the indoor unit. ACSIS personnel can quickly figure out the most appropriate spot to install the device to achieve the most balanced airflow.
As for the outdoor unit, it's fairly easy to point out where to install it – as long as it is on a level surface with space and will not create vibrations. Ceiling cassettes are generally noiseless, but the external unit will still emit noise, so you have to consider that, as well.
You will need to care for both units, just like with any other type of air conditioning system. The outdoor and outdoor units must be properly and regularly serviced. Also, the outdoor unit should never be exposed to corrosive substances.
If you cannot install a split system, which hangs on walls, a cassette air conditioner may be more suitable for your home. Bear in mind, though, that it is typically more expensive, but you can certainly cool more rooms and bigger spaces than a wall-mounted system.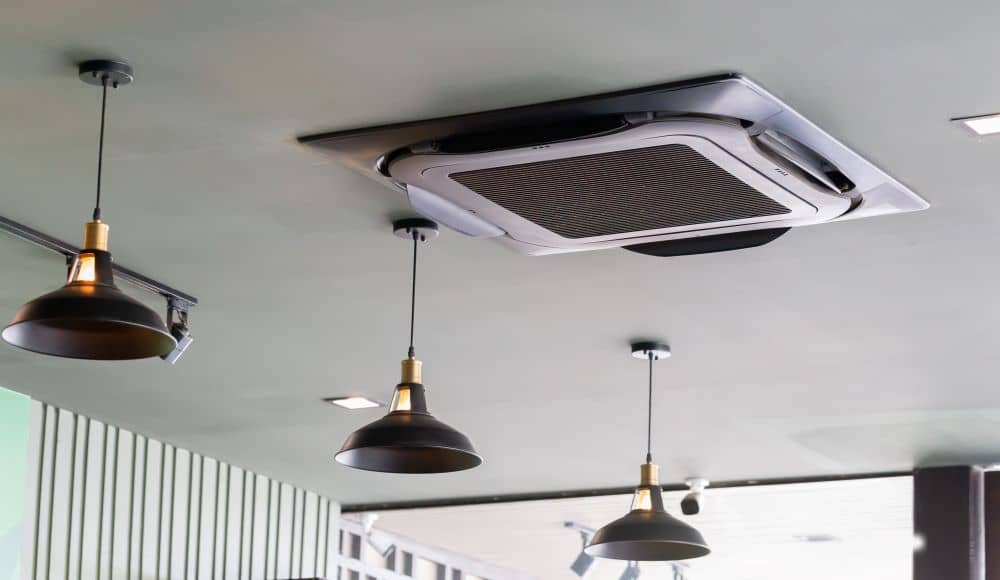 How Much Area Does a Ceiling Cassette Air Conditioner Cover?
The performance of the aircon system is almost the same as other split type systems of similar capacities. Cassettes are generally found in offices and retail stores, which show that they effectively cool larger spaces. Although similar, they are often more powerful than wall-mounted systems. That's why cassette air conditioners are regarded as space-efficient.
A ceiling-mounted aircon means that you avoid damaging your windows or walls. You also get to use the free space in your home and leave the walls for TVs, paintings, and other embellishments.
Ceiling cassettes are mainly recommended for single-storey homes. So, if you have a multi-storey home, this type of aircon is not suitable for you. You have to consider the amount of ceiling space you currently have before buying a ceiling cassette.
Nevertheless, ceiling cassette air conditioners are powerful, especially those offering a four-way airflow feature. They disperse cold air to all four corners, meaning they quickly reach the temperature you require. An ACSIS technician will tell you whether or not a ceiling cassette is good for your home.
Is a Ceiling Cassette Aircon Energy-Efficient?
You may already know that cold air falls and hot air rises. That's why when you use a ceiling cassette aircon, you are assured of good air distribution across the room. Its thermostat is programmable according to your needs. You can do the same with its fan speed. The ability to adjust the room temperature makes it a very energy-efficient system. It allows you to save on your monthly electric bills.
Being energy efficient means that a product or appliance uses the least energy while providing the highest output possible. Ceiling cassette air conditioners utilise minimal power but give sufficient cool air that ensures you feel comfortable all day and night.
Maintenance Tips for Ceiling Cassette Air Conditioners
Ceiling cassettes are not that difficult to maintain, but it's not easy, either. You should regularly clean the outer unit with a dry cloth. Make sure, though, that you turn off the system first. Cleaning the filters is generally straightforward. Again, ensure that you have disconnected the power before removing the filters. You can then wash them with water and a neutral detergent. Before reinstalling, the filters should be completely dry first.
Plasma filters are located behind the standard air filters. You will need to replace them every two years or so, depending on the instructions provided by the manufacturer. They also require cleaning every few months. Remove the filter and dip it into the water with mild detergent. Leave it to air dry when the task is complete.
It's vital that you periodically check for noise and leaks. Moisture and noise should not be a cause for concern most of the time. However, if the unit leaks or vibration and noise are audible, contact a technician right away.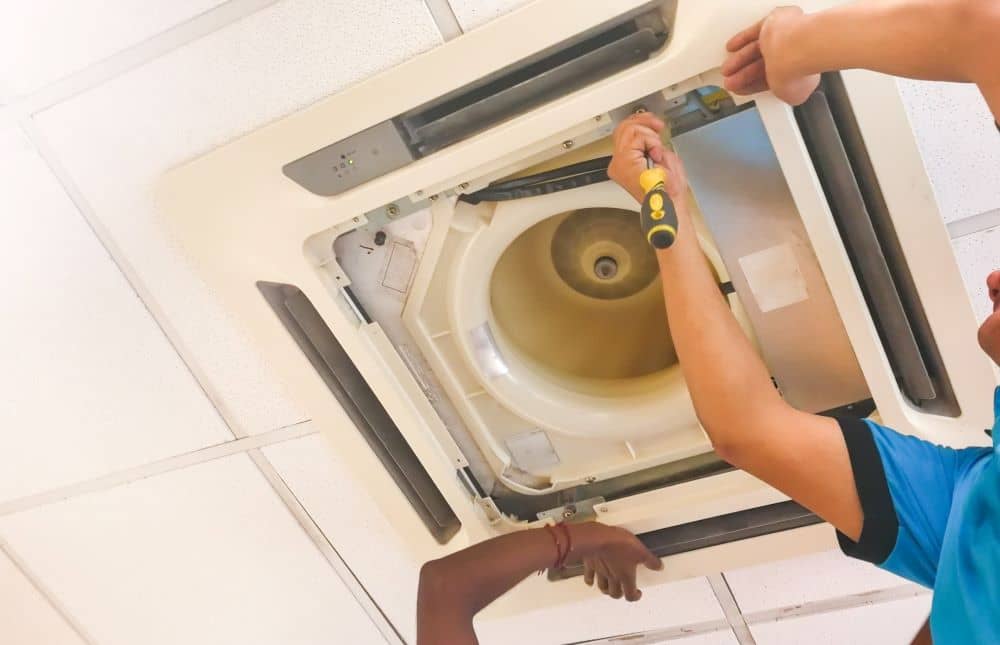 ACSIS Air can help remedy the problem with your aircon. We can also install your aircon for you. Give us a call for a quote and enjoy the benefits of a ceiling cassette air conditioner for your home today.