Maximise Efficiency With
Samsung Split Systems
Samsung provides a wide range of air conditioning units for residential homes and commercial use. Samsung air conditioners are globally renowned for their superior reliability, high-quality design and energy efficiency. Samsung's selection of split systems, ducted, and air purifiers are ideal for spaces large and small.
The most popular today are the new innovative Samsung GEO+ split systems range, with capacities ranging from 2.5kW to 8.0kW. The team at ACSIS Airconditioning Warehouse are Perth's Samsung air conditioning experts and will find the right solution to fit your individual requirements. We are passionate about what we do and provide the highest standard of installation and maintenance services for your Samsung split system unit.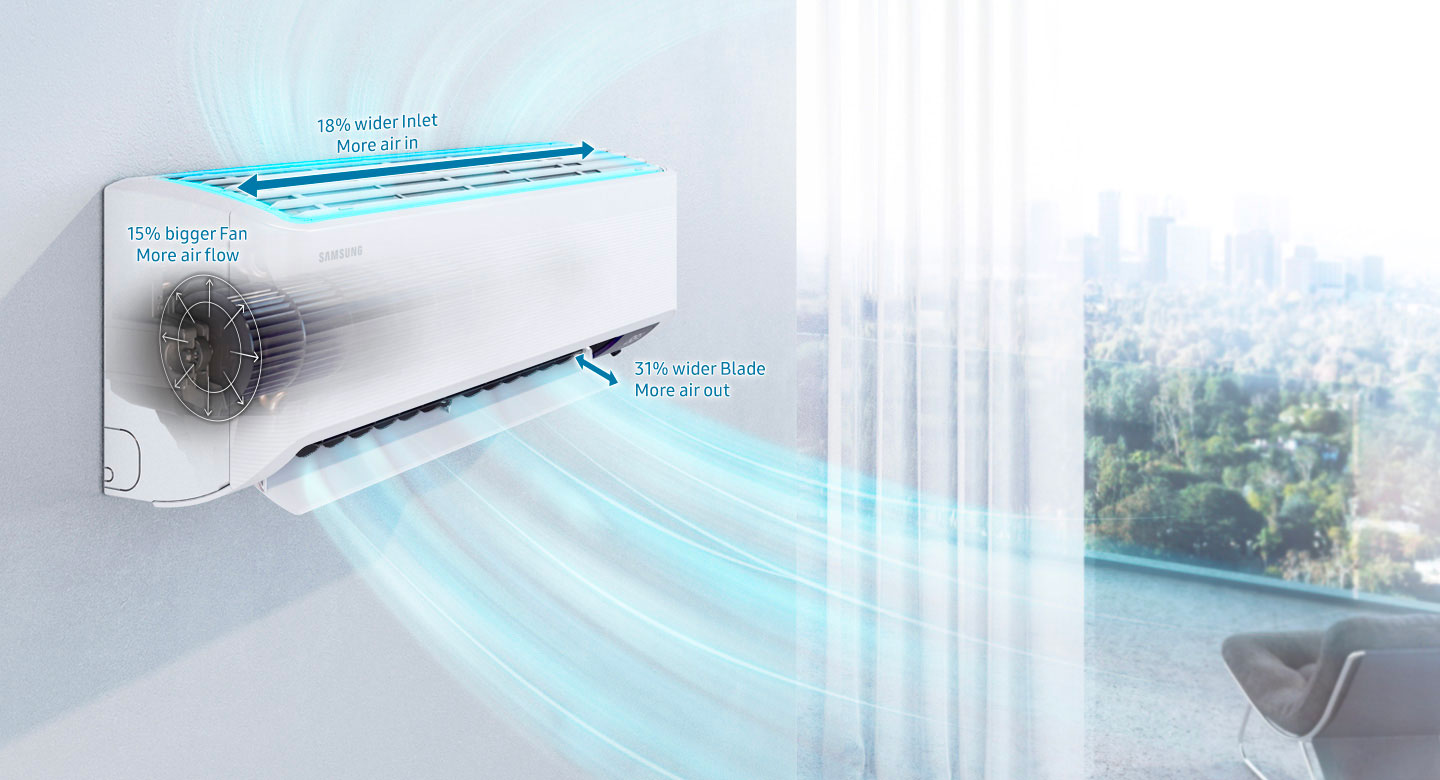 A Trusted Brand in
Air Conditioning Innovation
Boasting a number of international awards, including the ones listed below, it is no wonder that many West Australians look to Samsung air conditioners
for their home cooling requirements:
International Forum Design Awards 2016 for the Samsung 360 Cassette Aircon
2010 AHR Expo Innovation Award (indoor air quality category) for Samsung Air Conditioners with the Virus Doctor feature
CES Innovation Awards 2017
Mostra Convegno Expocomfort 2017
2021 Canstar Blue's Innovation Excellence Award (Heating and Cooling category) for the GEO WindFree AR9500 Split System
Have a Question about Samsung Split System Air Conditioners?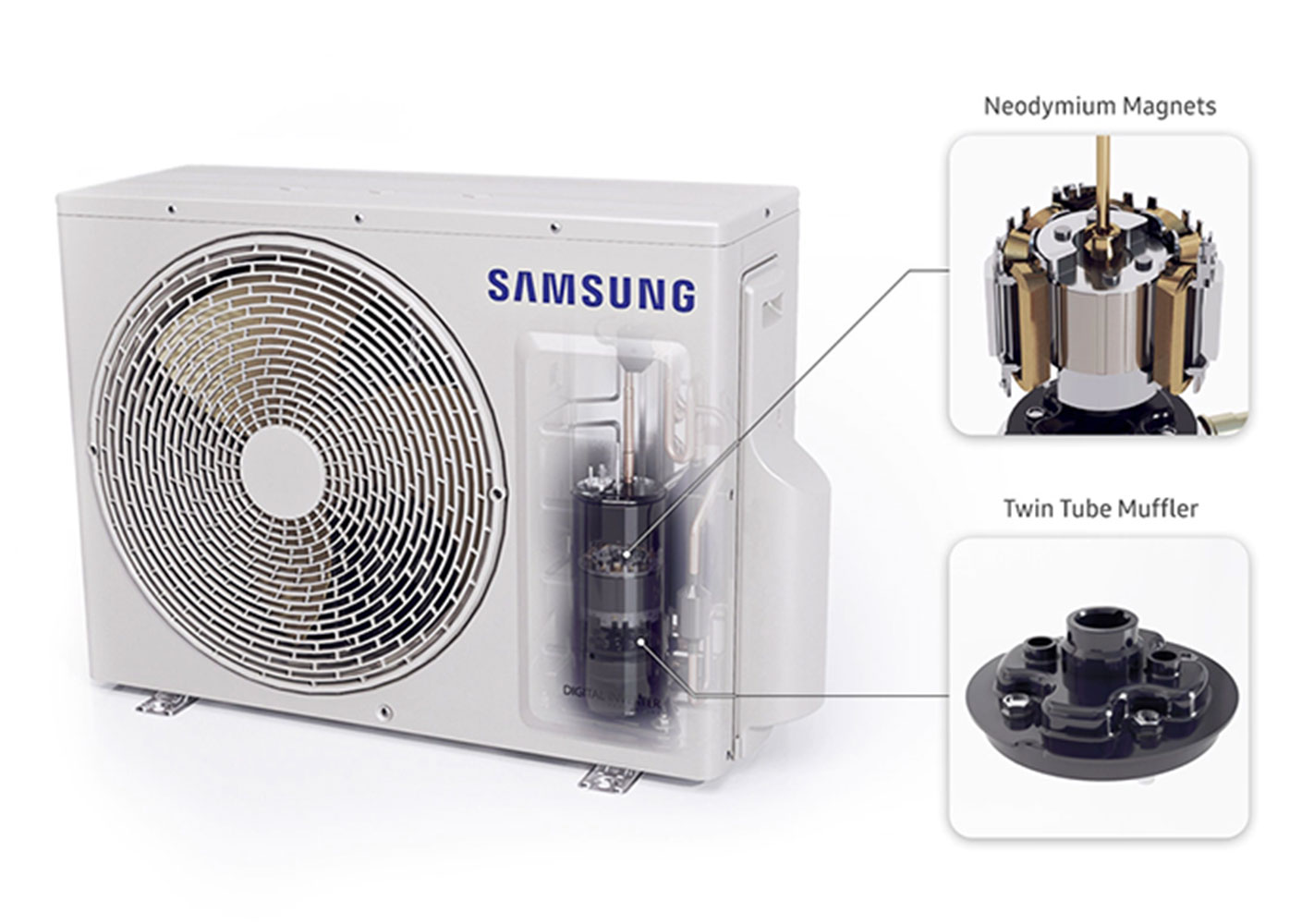 Samsung
GEO+ Split System Air Conditioner
Air conditioners bearing the esteemed Samsung name are engineered to deliver exceptional hygienic benefits on top of what you expect from your aircon, which are comfort and cooling.
The Samsung GEO+ Split Air Systems are built especially for West Australian homes. Beat the heat and enjoy a more comfortable space and peace of mind no matter the temperature outside, thanks to the following features:
Simple Modular Design: A compact outdoor unit and a removable indoor head, GEO+ split systems only have three parts and fewer than standard screw points for easy transportation, handling, and installation.
Home Assistant Application: Check your Samsung aircon anytime, anywhere with a smartphone app.
Digital Inverter Boost: This patented technology can lower energy consumption by up to 75%, plus minimal vibration and noise.
Fast Cooling: DuraFin™ Plus keeps your home cooler for longer with integrated protection from the ocean air. Innovative cooling technology allows GEO+ units to use less power whilst cooling rooms faster than ever.
Sleep Mode: Get more ZZZs with the Good Sleep mode that intelligently adjusts fan speed and airflow direction without you pressing any buttons.
Auto Clean and Easy Filter Plus: Automatically remove dust and moisture with the Auto Clean function whenever the appliance is turned off. The removable Easy Filter Plus has dense mesh for catching bacteria, so you breathe cleaner and healthier air.
Dehumidification Mode: Hot and humid in your Perth home? Not a problem with GEO+.
ECO Mode: Stress-free use without worrying about high electric bills. ECO Mode controls compressor capacity, minimising energy consumption. It's perfect for mild days.
R32: Caring for the environment while enjoying cool air with the new R32 refrigerant.
Why Choose
Samsung Split Air Conditioners
Samsung air conditioners are renowned for their cutting-edge technologies. They are designed to make your everyday life more comfortable whilst complementing your lifestyle.
A bevy of international award-giving bodies acknowledges Samsung's design pedigree. But above all, customers trust the name. Samsung is synonymous with brilliance in design and innovation.
Air conditioners with Samsung's brand are all designed to make homes more comfortable, using as little energy as possible – and they look good while doing it.
Samsung has a rich history as a whole, but air conditioners, particularly window-type units, were introduced in 1974. It did not take long for Samsung air conditioners to be a worldwide favourite. The brand's commitment to customer satisfaction is proven by its innovative products with low noise levels, effective yet energy-efficient operation, anti-bacterial filters, and durable design.