A Trusted Name in
Airconditioning
Mitsubishi is a name Australians trust. It has been in the market since 1870, making it one of the oldest manufacturers in the world. This global company is renowned for its application of technologies that make everyday living more comfortable and convenient.
Mitsubishi Electric introduced its first electric fan way back in 1921. It now sells and manufactures high-quality products, including air conditioners. It has received worldwide recognition from different award-giving bodies.
Some of the most notable ones include:
Special Award for Environment Beautification
EcoPro 2018 Executive Committee Chairman's Prize
Fiscal 2018 Energy Conservation Grand Prize (category: Products and Business Models)
Fiscal 2019 Energy-Efficient Machinery Award
JECA Fair 2018 57th Product Contest
Good Design Awards 2018
The
Mitsubishi Aircon Range
Mitsubishi offers a wide range of air conditioners, including wall-mounted, console split-system, and ceiling-mounted. Ducted and bulkhead air conditioners from the brand are among the most popular.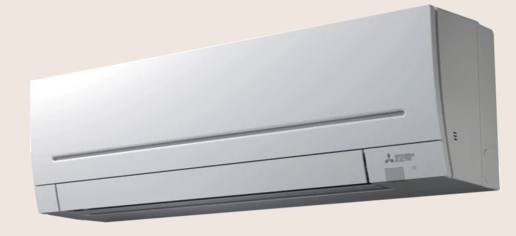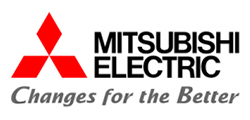 The MSZ-AP series of split system aircons comprise capacities from 2.5kw to 7.8kw.
Quick Clean Filter System – The front panel is easily detached and the air flow vents can be opened without special tools, making it easy to clean.
Wide & Long Airflow – The wide and long airflow modes allow the airflow direction to be adjusted to reach every corner of the room. (models 60/71/80)
i-Save mode – i-Save is a setting function that recalls the preferred (preset) temperature by pressing i-Save button on the remote controller.
Quiet Operation – A "Quiet Mode" setting has been added to the fan speed settings, ensuring super quiet operation ideal for the bedroom.
Blue Fin Condensere – Anti-corrosion treatment has been applied to the heat exchanger of the outdoor unit. This coating inhibits corrosion of the aluminium fins; salt in the air causes this especially in coastal areas.
R32 Refrigerant – R32 is a refrigerant with just one third the global warming potential of R410A, meaning less risk of harm to the environment. R32 enables increased energy efficiency and is said to be the next generation in refrigerants.
Wi-Fi Control – You can control and monitor your air conditioner from anywhere anytime via your smartphone, tablet or online account. (optional upgrade adapter required per unit)
Top Rated
Single Room Airconditioners
Some of the top-rated Mitsubishi Electric air conditioners for single rooms are:
Mitsubishi
Multi-Split System
Inverter multi-split system allows 2 to 8 indoor air-conditioning units to be connected to one outdoor unit.
One compact multi-split outdoor unit instead of many outdoor units can be very important when there is not much space available.
The indoor units include wall mounted, floor standing, ceiling cassettes, ceiling suspended & concealed types.
All units on our multi-split systems allow individual control of air conditioning in each space. This allows you to adjust the temperature to suit comfort levels and ensure that it is only operating when needed.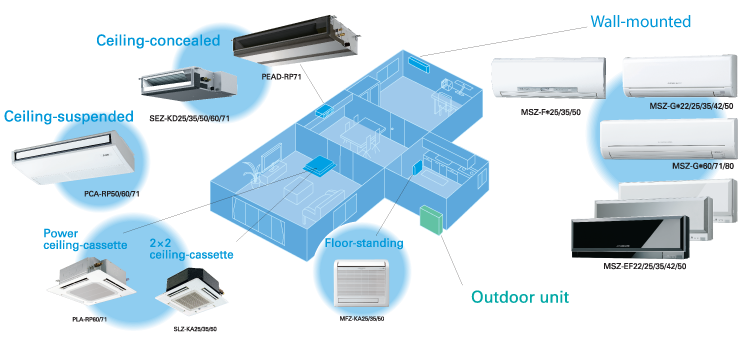 For multiple rooms, the following products are highly recommended:
MXZ Series is a multi-split system that lets users connect two to eight indoor units to only one outdoor unit.
Mini VRF Single Fan PUMY-SP connects up to 12 multiple indoor units to one outdoor unit. All units can be controlled individually.
Mitsubishi
Ducted System
Mitsubishi also offers ducted air conditioning systems for the whole house. This way, the entire building enjoys consistent heating and cooling throughout the day.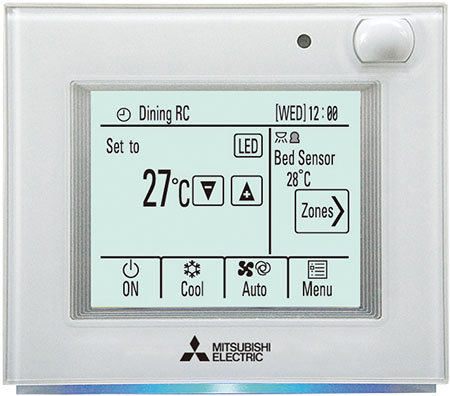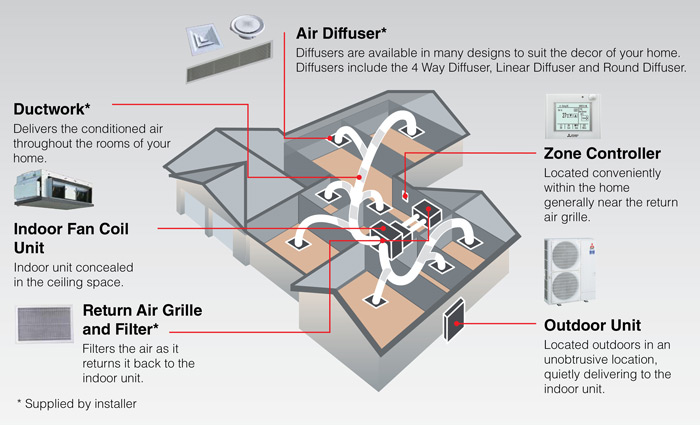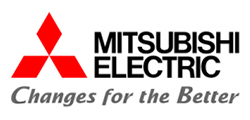 The range of ducted air conditioning systems includes capacities from 7.1KW to 22.0KW
Mitsubishi's Inverter technology allows temperature conditions down to -20C
Zone Controller Features
Fan Speed Control
Averaging Sensor Control
Energy Save Control
Easy Operation
Wi-Fi Control (optional upgrade adapter required per unit)
4.3″ User Friendly Touch Panel
Convenience
Backlight LCD and large display for high visibility and simple operation
Touch panel LCD for easy usage
LED light indicates the operation status in different colours (Red: Heat, Blue: Cool etc.)
Built-in temperature sensor detects the room temperature and displays it on the screen
Built-in occupancy sensor detects a person and operates the unit accordingly
Built-in brightness sensor operates the unit according to the surrounding brightness level
Why Choose
Mitsubishi Air Conditioners
Mitsubishi is an established name. It has the history and experience to back up its products and services. Air conditioning units with the Mitsubishi logo are recognised for their quality and advanced technology.
Innovation is a priority. Leveraging experience in the energy and environment sectors allows Mitsubishi to utilise cutting-edge solutions.
Commitment to customers is an important attribute. The brand stands behind the quality of its products. From buying to after-sales, customers know they will get superior service and guarantees. All air conditioners come with comprehensive warranties to provide users with the peace of mind they need.
Mitsubishi is synonymous with world-class. When it comes to air conditioning systems, Mitsubishi and its technology can perform excellently even in harsh Australian climates.
Mitsubishi uses and provides the benefits of the following advanced technologies:
Dot Matrix Liquid-Crystal Display for increased display size that comes with bigger letters and icons
Multi-Language Operations Display for international homes and businesses
Controlled Temperature Range for limiting both upper and lower temperatures for energy savings and unparalleled comfort
Auto-Off for turning the system off automatically
Remote Control Lock to prevent unauthorised changing of settings
Weekly Timer for automatic temperature settings during specific dates or time
Easy Maintenance available for specific units where operation information can be checked through the remote control
Remote Monitoring and Operation using the Internet
Mitsubishi promises that it continues to refine its components and functions to provide unbeatable products. The brand's breakthroughs are among the leading motivations in the industry as it moves forward.
With the numerous products, you may want to read this guide to help you choose the right type of air conditioner.
Download
Our Brochures For More Info
We also use Panasonic and Daikin brands.
Feel free to get in touch with us on (08) 9331 4366 for more information about how we can improve your Perth home.