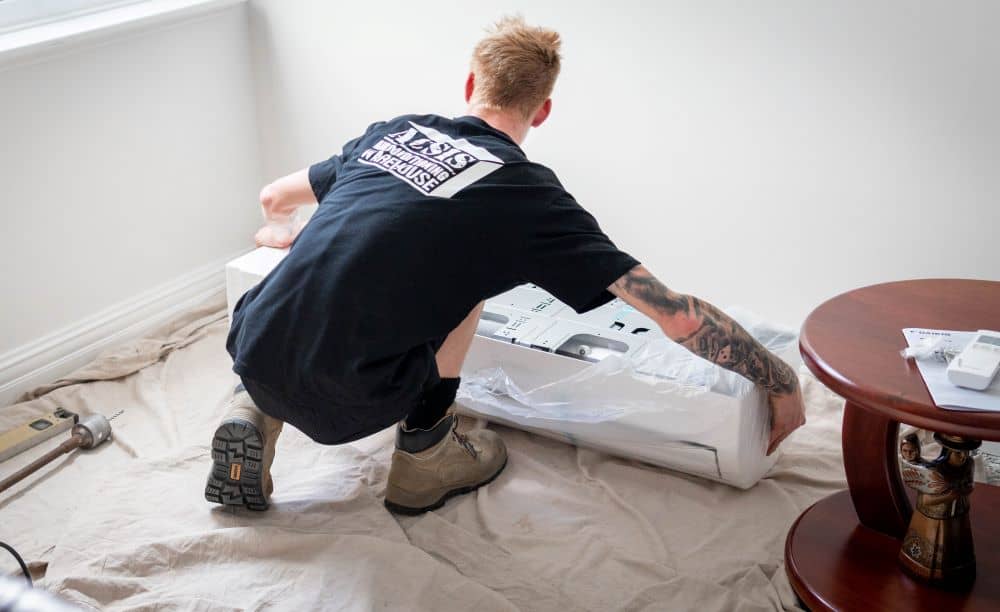 Split System Installation Perth Homeowners Can Trust
You can rely on our qualified technicians to help you find the right unit for you and sort out your split system installation with no fuss.
Our expert team offers split system installation Perth-wide and is ready and raring to help you optimise your comfort.
For year-round comfort and confidence in your system, get in touch with your local split system installers today!
What Brands Do We Install?
We have always received great service from Ian and his original team. We had an issue and discovered that they had changed owners and they were also lovely and helpful.... View More They followed up with Advantage Air also for us and the issues were resolved.

Bianca Castle


January 27, 2023

Great advice, great rodict and really good service.

Chris Wirrell


November 27, 2022

Totally happy with the end result, thank you!

Lou and Dom Watson


September 27, 2022

Would highly recommend Acsis Air. Matt Grossmith provided the initial info and quote. Matt was easy to deal with and always provided prompt replies to any queries. Upon installation the... View More supervisor Matt (a different Matt) was also great to deal with. Turned what i thought would be a very tough job removing our old evaporative and installing the new Daikin system into a very routine job. The installation team led by Matt did a great job of tidying our house after and I only wish all tradesman had this respect for customers houses!!!! As I said above, would highly recommend Acsis Air.

Josh Johnston


September 27, 2022

The upstairs old Daikin unit had finally given up, when our normally service technicians Camtec came out they advised the unit was uneconomical to repair and introduced us to their... View More sister company ACSIS. ACSIS replaced the old system with a new super quite unit which is cheaper to run and even installed a touchscreen controller which I can access via my phone. Great service from start to finish. 10/10 Question will ACSIS perform servicing on the upstairs unit or can Camtec do it when they do downstairs and the office? Cheers, Steve A - Doubleview

sonos home


September 27, 2022

After dealing with another installer who failed miserably to complete the supply and installation of two split systems into my heritage listed home I was happy to find ACSIS. Their... View More trades showed solid skills and experience and had the ability to think outside the box to solve problems. Matt and his guys were awesome. They were friendly, diligent and communicative and I am very happy with the results.

Sam Landels


September 27, 2022

Matt and his guys were awesome, they rocked up early had a chat about how things were going to work and got everything done before 4pm. He even went the... View More extra mile to introduce himself to our curious little dude 🙂

Trevor


September 27, 2022

I would like to give 5 stars. I have an industry experience and I know that Ian and whole ACSIS team has great knowledge of the systems, installation and troubleshooting.... View More They will always provide you the cheapest yet most reliable option. I have used them in 3 different properties. My suggestion is to use ASIC team or atleast get the quote before selecting any other company.

Sumit Kaushal


September 27, 2021

great team and best prices in perth

Value Services


September 27, 2021

Already reviewing on Facebook a couple of years ago for work done at home. But after using them for my business, they have not let me down and will be... View More getting them back again for more work. I have recommended acsis to friends, family and customers we deal with. Highly recommend!

Paul Thornbury


September 27, 2021

I was extremely pleased with the service of this company. They arrived on time and worked efficiently on the installation of the air conditioner. The clean up afterwards... View More was good and I would recommend the company to any of my family and friends. Another new air conditioning installed and an old one removed. Again all of the above applies. The service is second to none. No hesitation in recommending this company to everyone.

Rachel McKinnon


September 27, 2020

From Ann answering the phone, Ian coming the next day to diagnose the problem and returning on time the day after to fix it we have been delighted with the... View More service. So pleased our architect Philip Stejskal used a local and reliable company for this.

Gillian Henderson


September 27, 2020

My experience with ACSIS has been 5 stars! I was in the market for a large ducted AC. I received quotes from ACSIS and another 2 medium and large... View More size well known AC companies. ACSIS price was the most competitive. Ian took his time to answer all my questions during my built even before I put in a deposit. Installation went well. We opted for an outlet style which was not very easy to adjust. 6 months later, we needed couple of our outlets airflow direction to be changed. I offered to pay to have a couple of these adjusted but Ian came in and adjusted these for free. Excellent after-sales service. No BS and just get the job done. Fully recommend. Regards, Adrian

A Nurman


September 27, 2020

Highly recommended. Excellent service, prompt, reliable, affordable and cleaned up afterwards - wouldn't have noticed the install apart from the nice cool air from our lovely new Daikin air con... View More unit! Thanks, Andy and Trudy.

Andy Baker


September 27, 2020

Prompt Response and great honest advice. sold me a $30 part and could have sold me a whole kit for over $200. great thanks!

David Fraser


September 27, 2019

Guys did a wonderful job, knocked out the install including wall mount of our unit in less than a day with no mess left behind. All the systems work great... View More as does the wall control tablet. Recommended to many friends for their customer service and workmanship.

schulenbergpatrick


September 27, 2019

The service provided was great from initial quote to installation. Really happy with their work and would definitely recommend to anyone.

Chloe G


September 27, 2018

Scott and his team at ACSIS did a great job at a very reasonable price in removing an old evaporative system from our house and installing new split system units.... View More They were on time, polite, friendly and efficient. They also followed up promptly on some finishing details, and everything was left clean and tidy after the work was completed.

Robyn


September 27, 2018

Thanks Ian and the ACSIS team, I'm very happy with your product and installation.

Bosta Pratama


September 27, 2018

Installation was fast, aircon works great, quick email response too. Will recommend their service to friends and family.

Carolyn C


September 27, 2018

ACSIS provided an excellent service from start to finish. Scott came round to assess our house and came up with some options I hadn't thought of which we took on... View More board. The price was competitive with only a small deposit required upfront. The team of installers were impressive. Well organised, hard working with a positive banter going throughout the day. I would happily recommend ACSIS for your ducted air conditioning needs.

Rob Campbell


September 27, 2017

A painless experience in general; a quality install of a quality product at a reasonable price. Refreshingly professional service in general! Email responsed were quick and they arrived on... View More time to take measurements and quote. The quote process felt natural and there were no aggressive salesmen. A few of my assumptions about install locations were wrong and the corrections were made with tact. The installers arrived on the day stated, were respectful and did a great job. Air conditioning is a pretty big investment and I felt we made the right choice with ACSIS. Couldn't be happier with the result 🌡👍

Tristan Harmer


September 27, 2017

Good price and a no fuss install. Will use again.

Clarke Davies


September 27, 2017

Having encountered less than professional builders and air-con people previously, we are so very impressed with the great job Scott and his team have done for us. It is above... View More and beyond professionalism. They really have compassion and human touch in their service. We are very fortunate to have found these guys. We would like to highly recommend Scott and his team at ACSIS. Carol East Perth

EastPerthAc


September 27, 2017

My wife and I were duly impressed with the efficiency, expertise and professionalism of ACSIS. At the onset, a consultant came to our home and conducted a careful examination of... View More our existing situation. His analysis of the various options to improve it provided us with a clear picture of the underlying technological issues which can often be confusing for the consumer layperson. Similarly, the team that assembled to install our new unit a few days later was punctual, courteous and efficient. We have often expressed frustration at the generic deterioration of customer services across the board. It was, therefore, both refreshing and heartening to see that ACSIS still has such high regard for its clients and consideration of their needs. I would with great confidence highly recommend ACSIS to any homeowner seeking to improve their current air-conditioning systems.

Moshe Yehuda Bernstein (玉梦舍)


September 27, 2016

I thoroughly recommend ACSIS to anyone needing air-conditioning installed. Competitive pricing, professional advice, prompt replies to questions and best of all workers that were on time, efficient and took great... View More care with their work. Excellent customer service = one very happy customer!

Annelise N


September 27, 2016

The ACSIS installation team were very prompt and efficient with the work set for them. There was only one small issue that had to be rectified but this was dealt... View More with at first opportunity. I would highly recommend the team and the company to anyone looking for air conditioning.

Helen Gough


September 27, 2016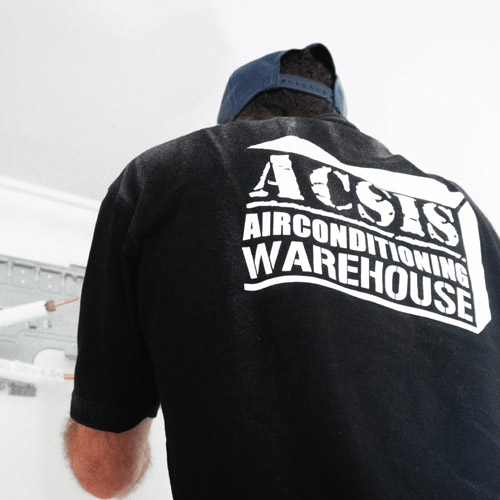 We're a family run and owned business based in Perth with two decade's worth of experience in the air conditioning industry.
Being specialists in the air con industry since 1999, we will advise the correct size unit for your house and zone each room separately to give you better control over your system.
All of our air conditioning systems are professionally installed by licensed technicians and we use only the best quality products and materials to ensure your air con system works efficiently.
For your peace of mind, all of our units and installations come with a 5 year warranty.
We will give you the best price which will cover the cost of the unit, all materials and installation including electrical (conditions apply).
Our technician will give you a demonstration on completion of your installation, so all you have to do is sit back, relax and enjoy your new air conditioning.
Split System Installation FAQs