Advantage Air Zone Controller Systems
Currently ACSIS Airconditioning is offering the following zone controllers for installation around Perth.
Don't get stuck with a basic on/off zone control panel when for just a little more you can have the following control systems installed.
These zone controllers are considered by ACSIS Airconditioning as the ultimate in zone controllers.
The Zone10e is a touch screen controller that gives you the option of having up to 10 zones. The Zone10e allows you to adjust the airflow output in any room from 10 to 100% in 10% increments. This makes adjusting the airflow a lot easier than the traditional way of having to go up into the roof space to air balance each zone.
With the traditional zone system a constant had to remain open at all times to prevent a build-up of air pressure resulting in damaged ductwork. The constant zone on the Zone10e can use up to 25% of your homes airflow and you can preselect a zone that opens when needed to save you from wasting air conditioned air.
With the Zone10e you can schedule a program for a week, so this allows you to program the air conditioner to turn off at a set time after you have gone to bed so that the air conditioner isn't running all night, or you can program the system to come on an hour before getting up in the morning so that the room is warmed before you get out of bed.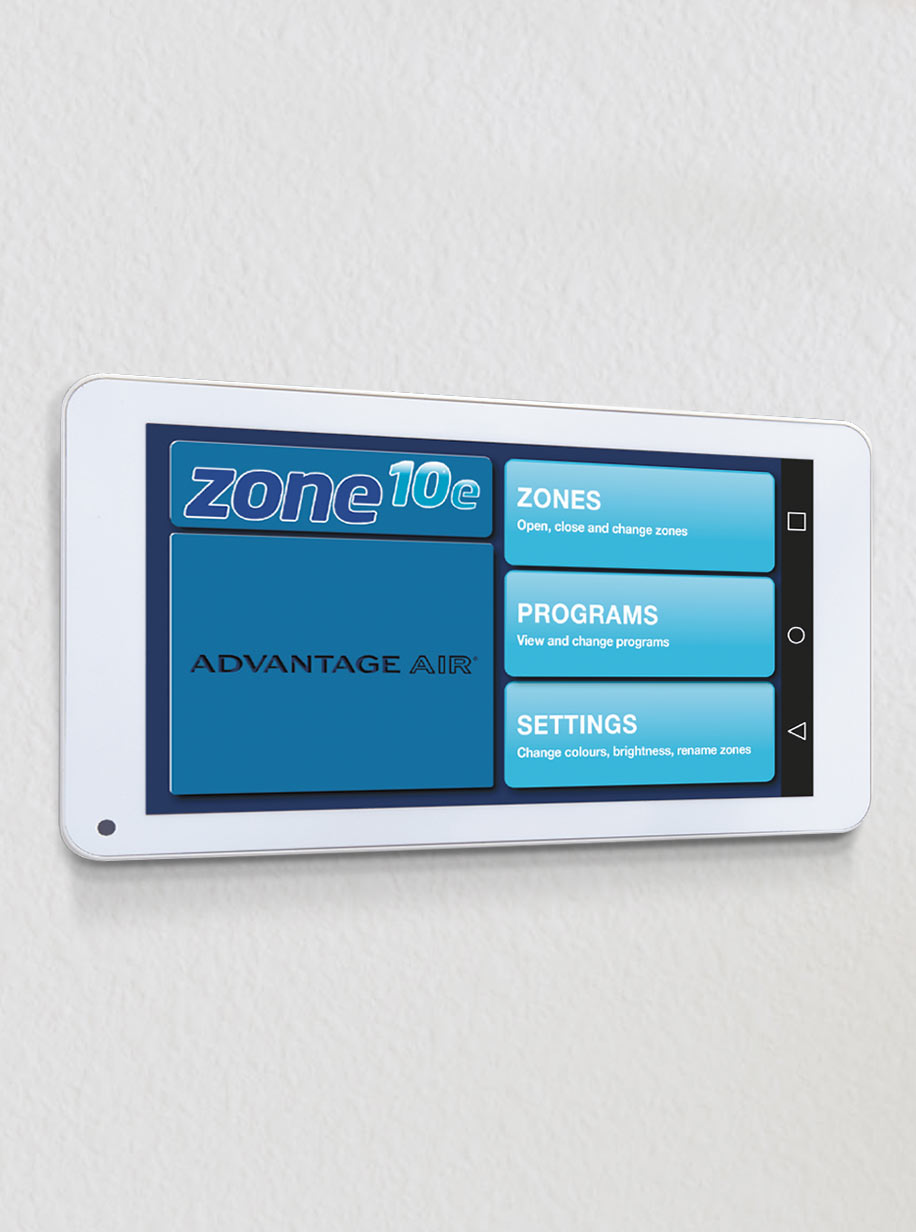 With the MyAir5 you can have up to 10 zones, so if your home has 10 rooms you can have each room as a different zone this way you don't have to air condition rooms you aren't using. You can adjust the airflow output to any room from 5 to 100% in 5% increments.
MyAir5 comes with a colour touch screen control panel that is about the size of an iPad Mini it is easy to read and displays all your options for the system. There is even a help button to assist you with any problems you may have. The control panel is fully integrated with Daikin, Panasonic and Mitsubishi units so you only have one controller on the wall.
MyAir5 comes with the option of motion sensors so if the room is empty for 10 minutes the temperature will adjust by 1 degree, if the room is empty for 20 minutes the temperature will adjust by another degree which is an energy saving of 20%. When the room is occupied again the system will automatically return to the set temperature. Another option is temperature sensors which will regulate the temperature in the selected zone automatically.
Want more information? Call us today we will answer any enquiries.