Air conditioners help get rid of warm air, moving it to the part that has the refrigerant. This cooling component reduces the temperature of the room. It also dehumidifies the area while removing heat as air is transported to the system's condenser, which is often the outdoor unit.
Ceiling Cassette Air Conditioners
Work Based on the Same Principles
The main difference though is how the unit is mounted.
As the name suggests, ceiling cassette air conditioners are installed in the ceiling. They work best when mounted in a floating or suspended ceiling. When operating, the cassette air conditioner will have cold air falling towards the floor. You can count on this type of air conditioning unit to provide coverage for a fairly large room, particularly when the fans are powerful.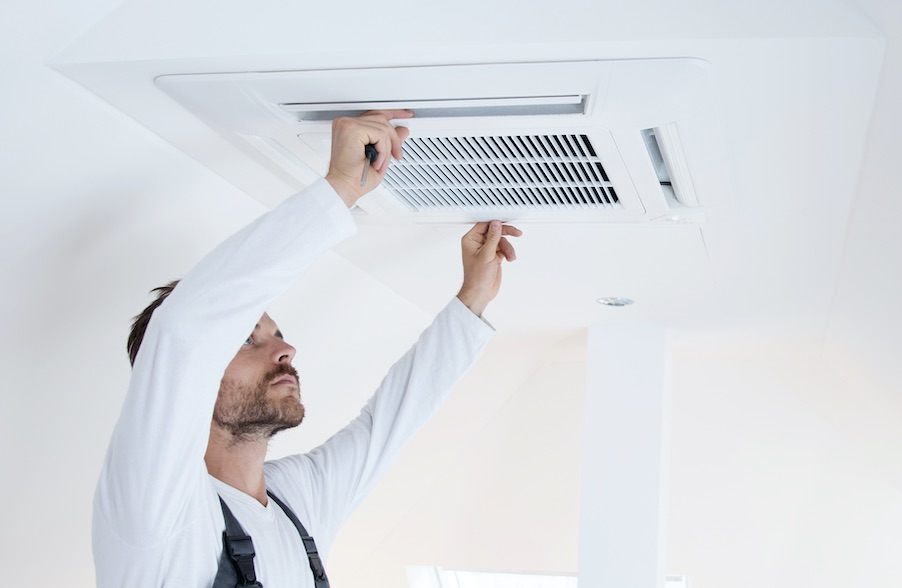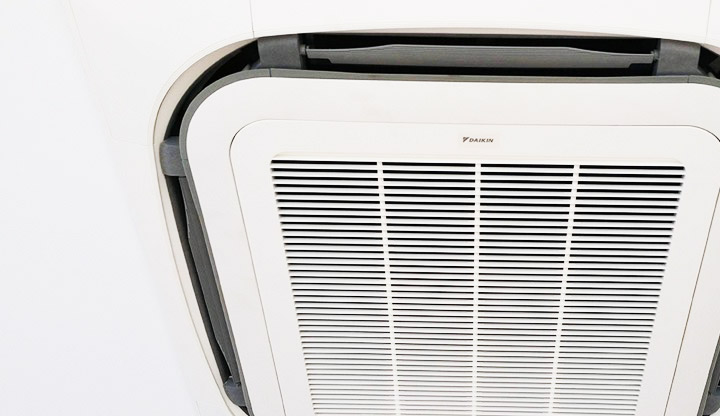 Ceiling Cassettes
AC Systems
Ceiling cassette air conditioning units are compatible with a number of applications like residential, stores and small workplaces.
These great looking systems are perfect for homes where design and aesthetics are as essential to the owner as functionality.
Not only do ceiling cassette air conditioning systems match with all standard ceilings, they are also simple to set up and maintain.
Ceiling Cassette Air Conditioners
Are More Affordable
Cassette AC systems are ideal for locations with false ceilings such as shops, small offices and apartment buildings
Cassette systems are also suitable for living areas in homes where a wall-mounted AC unit is not a viable option
Ceiling cassette systems are sometimes preferable to a split system as only the fascia panel is visible after installation.
Cassette AC systems are a more affordable alternative for the same area than a ducted AC system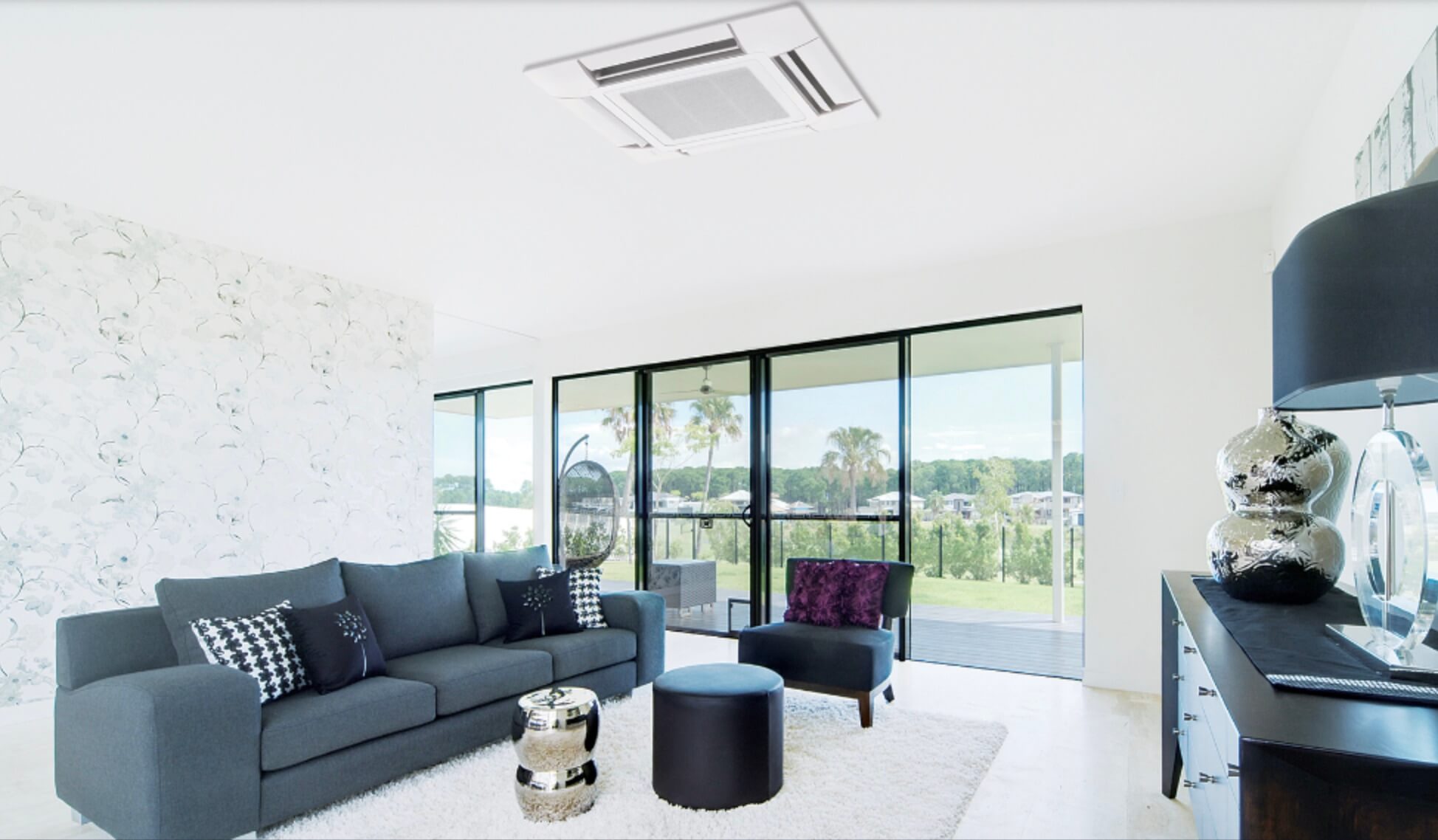 What are the Benefits of a Cassette Air Conditioner?
Ceiling cassette AC units can be installed in various locations, such as your home, an apartment, or an office building.
They offer several benefits no matter which type of housing they are mounted:
Cassette AC units allow air to be distributed well in the room. The fact that cold air falls downwards, cassette air conditioners can keep a big area cool and maintain it at an ideal temperature.
Installing a cassette air conditioner does not take up space. Compared to other systems, especially those that stand on the floor and even units that are mounted on the wall, cassette ACs are installed in the ceiling, so they never get in the way.
The condenser can be placed outside the house or building. Therefore, you can expect that this type of aircon will not keep you awake at night. As a bonus, it does operate quietly.
Cassette air conditioners have a programmable thermostat. They also come with fans that can be set at different speeds depending on what you require for the day.
Because of the programmable thermostat, you can adjust the temperature for the room at certain times. Therefore, you get to save money on your power bills.
The cassette air conditioner in your home or office is energy-efficient. It does not consume as much power as other types of aircon.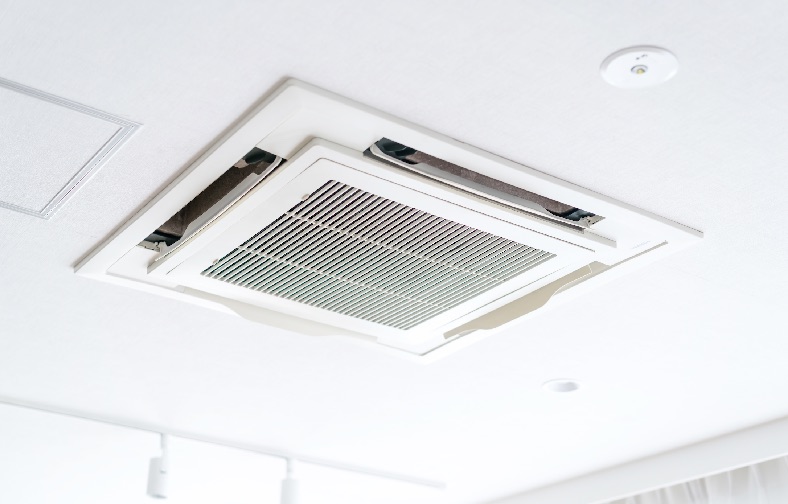 Is a Ceiling Cassette Air Conditioner
the Best Option for Your Home?
Aside from being more affordable than most other types of air conditioners, a ceiling cassette AC may just be what you need for your home. Here are the reasons why you may want to choose this unit over the others:
You want a compact air conditioner. Compared to other types of aircon, especially window-type units, a cassette air conditioner saves more space. It is not only compact but can also be concealed easily under the upper walls.
You do not want the AC to be too visible. Air conditioners are not ugly, but they can be bulky and can ruin the look that you are aiming for. Cassette AC units are not an eyesore at all. They are stylish, and more importantly, you get to maintain the aesthetics of the room.
You wish for the installation to be quick and easy. Even if you do not install the unit yourself, you surely want the process to be done as fast as possible. Cassette air conditioners can be mounted without a lot of fuss, mainly if the ceiling was prepared for the unit already. Because it is easy to install, many DIYers may attempt to do the task themselves.
As an added benefit, a cassette aircon can be installed anywhere. You can choose a spot that requires more cooling.

How is a Cassette AC Installed?
Ceiling cassette air conditioners are lightweight and allow for quick installations. Many systems can be flush mounted to the ceiling while others require setting down about 2.5 cm or more. Wherever you position the unit, it will be based on the type of cassette aircon itself. Airflow can typically go in every direction, which is why the unit can be installed in a corner or even in a long hallway.
While cassette air conditioners are not as complex as other AC units, such as ducted, they still pose risks due to their electrical components and system pressure. It is best to leave the installation job to trained and qualified installers, such as ACSIS Air professionals.
How to Maintain Cassette Air Conditioners
A ceiling cassette aircon is compact and straightforward. Therefore, it is easy to maintain these units which also keeps them allergy-friendly. They are durable as well, so you can expect them to function without a reduction in performance for several years.
Just like with other types of AC, you should clean the unit regularly. Turn the power off first before wiping it using a dry cloth. You can do this task once every two weeks.