Buying your air conditioning system can be quite confusing, whether you plan to replace your current system or it is your first time purchasing one. There are so many factors to consider, including the size of the space, your budget, and your needs.
Additionally, you do not just have to choose from one type of air conditioning unit. There are several types of air cons for you to consider, which makes the shopping stage even more stressful.
However, if you live in Perth, you know that AC systems are a must. Therefore, all the hassle of buying is worth it, as long as you end up with the right unit for your home.
Why You Need Air Conditioning in Perth
Perth enjoys more hours of sunshine than any other state capital in the country. In southern areas, many homes would reserve the use of air-con during the extremely hot days and nights. However, Perth has always had hot and dry weather, especially in the summer. Rainy days are quite rare while February results in 31°C on average. Even during winter, the sun can warm up the day.
The sunny climate makes the city fun with outdoor-loving residents. However, when you are home for several hours or you have kids with you, you will most likely hear them complain about the high temperature.
In 2018, the recorded hottest day in Perth reached 38.5 degrees Celsius around 2 PM on January 14th. A week before this, the city had the warmest night in four years where the minimum was recorded to hit 26.2C. The temperature in February a year before that was higher, reaching 39.3C. Autumn is just around the corner but the warm temperatures may not be welcoming for some people.
It could become a trend every year from now on, which is why being prepared with a reliable air conditioning unit is a must for Perth homes.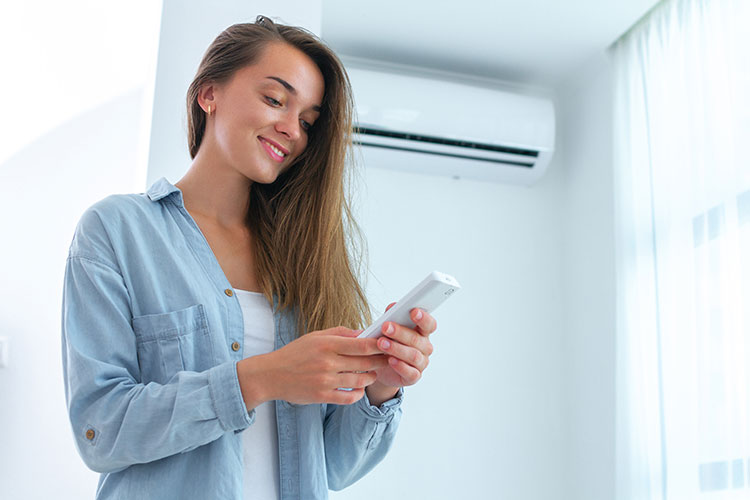 Four Types of Air Conditioners
Many people may be looking forward to spring. After all, it is the end of cold winters and staying mostly indoors. If you love the sun, you will soon see it shining once the winter days are over. However, spring also means that summer is just around the corner. Although you may love to go out with your friends and visit tourist hotspots in the city, there are days when you just want to stay at home.
The hot summer can be extremely unbearable, so you may want to be ready with the most suitable air-con unit for your home.
To start, here are the four most common types of air conditioning units that you can choose from:
Ducted Air Conditioning Systems

Ducted AC units come with a central fan coil. This particular fan coil is concealed in the roof and is connected to all the rooms in the house through an assembly of ducts, hence the name. Ducted air conditioning units allow you to cool not just one room but the entire house. Some systems even let you set various temperatures for individual rooms at the same time, called temperature-controlled zones.

Temperature controlled zones are enabled because the sensor is on the wall. It is easy to choose the settings, including the temperature through the zone controller.

Pros and Cons of Ducted Air Conditioners

Many homes find ducted air conditioners extremely useful. They provide major cooling benefits for the whole house, especially the newly built ones. If you have an existing house but you are doing significant renovations, this AC type is also a viable choice.

Is this for you though? Take a look at its benefits below:

Aesthetics: For some homeowners, they value the appeal of their property greatly. Having an air conditioner installed in the windows or somewhere visible is not the most attractive option available. However, with ducted AC, you do not have to worry about bulky units in your home. They are almost invisible, except the outlets in the ceiling. Nevertheless, they are quite nondescript, so they are not as hideous as you think.
Minimalist: Those who place minimalist design of high importance in their home will also like this type of AC. As mentioned, ducted systems are not hanging on your wall. Therefore, your air conditioner will not get in the way of the room's design, whether it is the living room or bedroom.
Zoning: A huge benefit of a ducted AC is that you gain control over the temperature in every room in the house. Depending on your unit & zone control system, you can have varying temperatures for all the spaces, allowing you to have zones. You do not have to cool your entire home. If some rooms are unoccupied, you can turn off these zones to save electricity. Also, you can customise how cool a particular room is.
Efficiency: Air conditioners have a bad rep for being energy inefficient. However, ducted air conditioning units can help save you money. You do not need to install two or more systems to cool each room. It reduces redundancy while you maintain a comfortable home. You can also turn off the zones for the rooms that don't need cooling, which minimises the electric bills.
Virtually noiseless: If you had a window or wall-type AC, you can understand the frustration that comes with the constant drone of the unit's compressor. Some people may be fine with it, but others cannot sleep through the noise. Think about the humming that takes place in the house, especially if you have two or more units installed. You do not have this issue with a ducted system since it uses the ducts and can run through the roof cavity of the home.

Of course, ducted air conditioners are not perfect. They also have disadvantages, including:

Expensive: Installing a ducted air conditioner is expensive. The initial cost can be too pricey, especially for those who are on a budget. There are more affordable units as an alternative.
Space requirement: Some homes cannot accommodate this type of AC. If you have limited space, it may not be possible to install a ducted air-con in your home.
Unsuitability: Some homes only require cooling in one area. Cooling a single room is not cost-efficient if you go for a ducted AC. You will end up spending more than what is necessary.

Who is this type of AC for? Ducted units are large, so they need a huge space for a successful installation. The units are also quite complex, which is why it is not recommended that you DIY the process.

Ducted air conditioners may be beneficial for apartments but most buildings do not have enough space. If you have a bigger apartment or house, ducted AC systems are a great option. If numerous rooms need heating or cooling, you may want to go with this AC type. It allows you to cool selected spaces or the entire house when required.

Split System Air Conditioning

Probably the most common type of air conditioning is a split system. If you have ever seen a unit connected to a wall, then you are looking at this type of AC. These systems are usually seen in smaller homes.

A split system air conditioner, as the name suggests, has its units that have been split into two. The indoor unit is the fan coil, which is responsible for blowing cool (or warm) air into the room. The other unit is called the condenser, which you can normally see outside the house.

One of the reasons why many homes prefer this type of AC is that it has an attractive price, ranging from $1,500 – $3,500 depending on the size of the unit. It can also be installed quickly, which is why some homeowners choose them right away.

Pros and Cons of a Split System Air Conditioner

Before you think about buying this type of AC, be sure to take a look at the pros and cons first. Here are the benefits:

Affordable: As mentioned above, split type aircon units are extremely affordable. Compared to other types, you can purchase one in a store or here at ACSIS Air for a very cheap price. You do not have to break the bank to have it installed either.
Quick installation: Aside from the affordable unit, it is also easy to install. It usually only takes a few hours.
Flexible: You can install it anywhere in the house. You also do not need a huge space for it. Just an empty wall will do.
Non-invasive: Since it will be installed on the wall, you may think it can get in the way of the structural elements in your home. Thankfully, it is not as demanding as you may think. It can be mounted on any wall wherever the unit can fit.
Suitable for most homes: Those with smaller homes or apartments will find this type of AC a great choice for them.

When it comes to the disadvantages, you may want to consider the following before you buy:

Limitation of air flow: Split systems push air out from the front of the unit and are designed to cool/heat the room they are installed in, not an adjacent room through a doorway.
Visibility: Unlike a ducted air conditioning system, you can see the unit on the wall, which can interfere with the design of the room.
Unattractive: Some homeowners think that the external condenser is not as appealing as they wish it should be.
Noise: You will not have to deal with noise for the internal unit. However, the external one is a completely different story. This compressor can generate a lot of noise. It is why you should place it strategically outside so you can sleep well at night.

Is this the type of unit you are looking for? If your neighbours do not have a problem with the noise, you may want to consider this affordable AC option. Note that it is designed for cooling/heating one room only. In reality, you will save more money if you only need to use the AC for a single room. However, if your home is large and you need to cool many spaces, you may want to go for a ducted air conditioner instead.

Multi-Split System Air Conditioning

Another type of AC that you may want to consider is multi-split AC. It is based on the split system where it also has both indoor and outdoor units. However, instead of just one indoor unit, the multi-split system has several units, hence the name. They are all connected to one single unit, which is placed outside the house.

Multi-split units can be used for heating and cooling, but some systems are designed for cooling only.

Pros and Cons of Multi-Split AC Systems

If you are considering a multi-split AC, know about its advantages and disadvantages first. Here are the positive traits of this type of air-con:

Energy efficient: With the ability to heat or cool rooms, a multi-split AC can help reduce running and power expenses. Many will agree that a multi-split unit is the most energy-efficient type of air-con out there. It operates with several air conditioners indoors using only one external compressor.
For more rooms: If you have many rooms in the house, you will benefit from this type of AC without needing to buy an outdoor unit for all.
Adjustability: You can select the temperature that will suit every room.
Flexibility: You can add more indoor units later if needed, provided this has been taken into account before the installation.
Placement: The outdoor unit can be placed up to 15 metres away without loss of capacity.
Affordability: This type of unit is cheaper than buying multiple single split systems. It is also affordable when it comes to installation, repairs, maintenance, and replacements.

Unfortunately, this system also has some cons:

Compressor issues: If you have a problem with the outdoor unit, all the units indoors will stop working.
Temperatures: All the units have to be set in the same mode (heat or cool), you can't set some units in cool & some in heat.

A multi-split air conditioning system lets you have two to nine indoor units. It is a good alternative to those who may have wanted a ducted AC but do not have enough space to accommodate the huge unit. If you have multiple rooms or you have a multi-storey house, you may be interested in installing this type of AC.

Portable Air Conditioners

If you want a standalone air conditioning unit, you can turn to a portable AC system. This type gives you a cooler room, especially if you need this benefit in one specific room only.

Portable air conditioners work just like most other types of ACs. They take in the air from outside through exhaust duct run through a window . Then, the compressor will cycle the air and give off the hot air back out.

Pros and Cons of Portable Air Conditioners

Wondering if this type of AC is for your home? Here are its benefits:

AffordabilityBecause this air conditioner is smaller than other types, it is perhaps the cheapest option you have.
Easy installation: You only need a window for the exhaust hose of the unit. There should also be an electrical outlet nearby to plug it in. You usually do not need a professional for the installation process. However, be sure that you follow the directions to the letter.
Moveability: You can roll around the unit to another room wherever you need it. This AC gives you a lot of freedom, unlike other types.

Before you hurry out and buy though, consider these cons as well:

Less efficient: The small size of a portable air-con is a double-edged sword. It is less efficient than other AC types. The unit will use more power.
Noise: The unit will be in your room, which means you have to deal with the noise that comes with it. You can, however, turn it down but it also means you have to lower the cooling speed.

Who is this type of AC for? A portable air conditioner is great for homeowners who want to move the air conditioning unit from one room to another.

Those who live in apartments may have strict regulations to follow, including those that involve adding appliances in the property so this type of air-con could be suitable.
Phased Out Air Conditioners
Some air conditioners that were installed before 2010 contain R22 refrigerants, which are no longer allowed not just in Australia but all 197 members of the United Nations. R22 is a refrigerant or cooling material that was generally used in refrigerators and air conditioning systems in the 1990s following the phase-out of chlorofluorocarbons (CFCs) in 1995.
A year later, Australia banned the use of hydrochlorofluorocarbons (HCFCs) as part of the Ozone Protection and Synthetic Greenhouse Gas Management Act, which was signed in 1989. Currently, R22 is slowly reaching the end of its lifespan. Newer technologies have discovered better materials that will not affect the ozone layer.
The refrigerant in air conditioners now can be either R410A (Puron) or R32. Many older systems had R22 because it was prevalent for more than four decades. It was used for both residential AC systems & refrigerators.
Best Air Conditioner Brands
Which brands should you go for? Aside from the type, you should also pick the best brand of AC for your home. Here are the top choices:
Daikin: Daikin Industries Ltd was founded in 1924 & offers a wide range of products with units that meet different applications and environments. You can find compact to large models to fit your cooling and heating needs. The brand also has energy-efficient products, which are a wonderful option for those who do not want to face huge power bills.
Panasonic: A trusted name in technological products, Panasonic offers high-quality and reliable air conditioners. With over 60 years in the air conditioning sector, this brand has introduced various types of AC units from window-type to WiFi-ready air conditioners.
Mitsubishi: The brand is trusted by commercial, residential, and industrial consumers. Mitsubishi Electric has produced a large number of products over the years. From split systems to multi-split to ducted units, you can find a Mitsubishi aircon that is right for your needs and budget.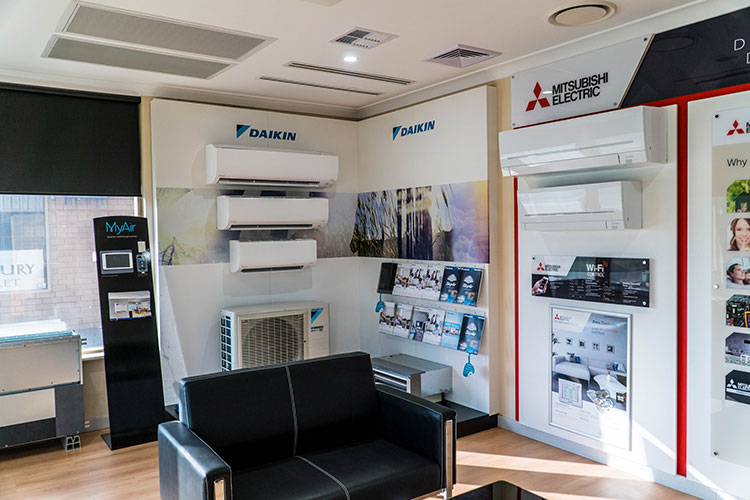 There are various options for AC units out there from the type to the brand to many other considerations. Before you choose, think about the cooling capacity you need for a specific room or the entire house.
You should also understand the type of unit that you plan to buy, along with its maintenance and special requirements. Balance all the factors, including function, noise, cost, and aesthetics to finally determine which type of air conditioning unit is the best for you.
If you are still confused, you can contact ACSIS Air to help you decide. Meanwhile, if you already have a decision, call ACSIS Air to schedule the installation of the unit.