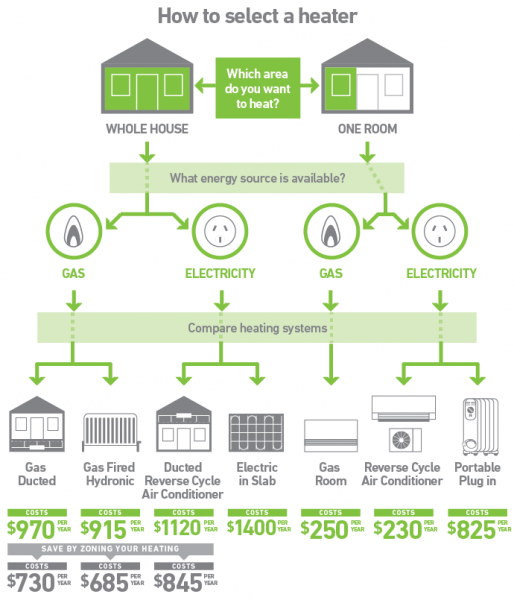 A high-efficiency reverse cycle air conditioner will cost less to run. By choosing the right sized system for your home you can avoid paying for energy you don't need. In this article, we review the points you need to be aware of to ensure you choose the right system for your home.
So What's the Difference Between Ducted and Split Systems?
Both have their place for your home or business.
But there are some key points of difference and factors you need to consider below:
Ducted Reverse Cycle Air Conditioners
Ducted systems are designed to heat and cool your whole house through one set of ducts, usually in the ceiling.
Rooms can be zoned to reduce power consumption.
Sizing is critical and should be done by an expert.
Buy the most energy-efficient unit you can afford.
Use only well-insulated ductwork.
Reverse Cycle Split System Air Conditioners
Designed to heat and cool a single room or open plan area.
Split systems are quieter than window wall units.
Buy the most energy-efficient unit you can.
Inverter models are quieter and more efficient.
Sizing is critical and should be done by an expert.
What is Energy Efficient Heating?
Householders spend about $800 a year or around one-third of the average home's energy bill on home heating.
Energy-efficient heating is much more than a good heater.
It is a combination of:
Operating your heater efficiently
Having a heater that is appropriate for the area it is heating and for your needs
Making sure that your home can retain the heat you  put into it (and pay for), for as long as possible, so think about insulation, keeping draughts out and effective window coverings
What Are the Benefits of Energy-efficient Heating?
Energy-efficient heating helps to reduce your energy costs and save you money. This also means improved comfort for you and your family. You will keep warmer in winter without the added expense of additional heating.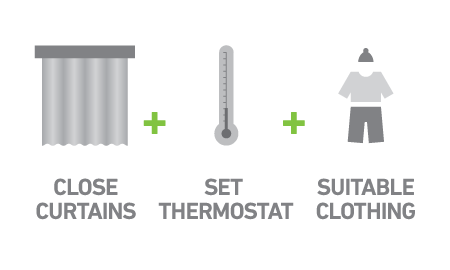 Things to Consider
Regardless of the type of heater you have, if you operate and maintain your heating system wisely, you can reduce your energy costs and still be comfortable. You may even use the heater less.
Dress for the weather: Wearing warmer clothing is free and will mean you can turn your heater down!
Use the thermostat correctly: Set your thermostat between 18°C and 20°C for living areas. Every degree higher on your thermostat can increase your bill by up to 10%. Thermostats for central heating systems should be placed in living areas, where you spend most of your time. Ensure thermostats are protected from draughts, as well as heat sources such as heating outlets or direct sunlight. Thermostats should not be located on external walls.
Don't leave your heater running: On low overnight or while you are out during the day. It is cheaper to turn the heater off while you are out or overnight while sleeping, and on again when you return or wake up in the morning
Install a timer: Or programmable thermostat to turn your heater on and off automatically, say 20–30 minutes before rising in the morning or getting home in the evening.
Don't forget to turn the entire system off:  If you are going away on holidays, this alone could save you money on energy bills.
Zone your home: Minimise the area to be heated by closing doors to areas of your home that you are not using. Being able to close off different areas allows you to heat only those areas in use at any one time. Doubling the size of the heated area can double the heating cost! Open-plan homes without zoning mean that the whole house will be heated at once, regardless of which areas are being used – a costly and wasteful exercise. Install doors or other barriers between different areas of the home, e.g. between living and sleeping areas, informal and formal areas and in two-storey or split level homes. The 'wet' areas of your home, e.g. bathrooms and laundries, should also be a separate zone, as they are usually unheated and able to be well ventilated. If you have a ducted system check the system's instruction manual to see how many ducts can be closed.
Keep the heat in: Close curtains and blinds to keep the heat in when the heater is running. Heavy curtains and a box pelmet at the top of the curtains will stop the warmed air from escaping through the unprotected glass of the window.
Maintain airflow: keep curtains and furniture clear of outlets and the return air grille so that they do not restrict the flow of air from the outlet and around the home.
Switch to solar hot water: By switching to an advanced solar hot water system from your trusted local solar provider you can save $600 and years and most likely allot more on water heating energy bills.
Maintain Your System
Ensure your ducting is free of air leaks, you don't want to pay to heat your ceiling or under the floor
Make sure your ductwork is well-insulated (R1.0 to R1.5) if you have a central heating system
Clean air filters regularly
Service all systems according to the manufacturer's instructions
What is insulation?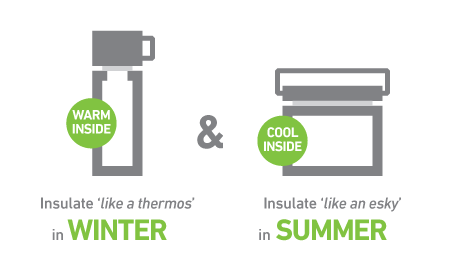 A large number of homes have inadequate ceiling insulation, allowing heat to escape in winter and allowing unwanted heat inside in summer.
Insulation refers to materials which provide substantial resistance to heat flow. When insulating materials are installed in a building, the heat flow into and out is reduced and the need for heating and cooling is minimised.
What Are the Benefits of Insulation?
Insulation is the most cost-effective way to improve the energy efficiency and comfort of your home, as a fully insulated home means you'll spend less on heating in winter and less on cooling in summer.
In new or existing homes adding bulk insulation is one of the smartest ways to save money on energy bills.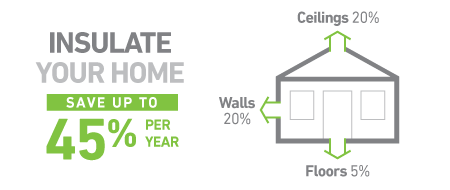 Disclaimer: 'Whole house' refers to heating approximately 160 – 170m2. 'One room' is approximately 30 – 40 m2. Approximate costs per year, based on 900 hours usage (or around 5 months at 6 hours per day). Based on peak electricity tariff of 27.7cents / kWh, off-peak electricity tariff of 16.6 c/kWh and marginal natural gas tariffs of 1.50 cents / MJ (gas ducted heating) and 1.66 cents / MJ (gas room heating). Actual costs for your house will depend on the area heated, how long you run the heating for, your thermostat settings, how well insulated the house is, your energy tariffs and your local climate.